The Jobs module provides an efficient method of tracking costs and revenue for jobs/projects throughout the system, with comprehensive reporting capability. It also provides a simple method for billing customers for works completed, whether for a "contract" or "do and charge" job.
Costing information for jobs is collected from throughout the system whenever a job is allocated via debtors / inventory (materials from warehouse), payroll (timesheets), creditors (purchase orders / invoices), jobs (direct postings) or general ledger (cashbook postings).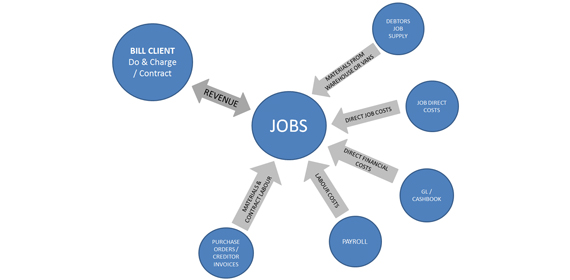 All billing for jobs is completed through the Job Invoicing screen, allowing the user to bill at a summarised or detailed level, using predefined mark-up rates (Do & Charge), or a set value or percentage of a contract.
Functions include:
Transparent movement from Quotes to Jobs to Job Completion
Merging of one job/quote/template section into another job/quote/template section, and creation of jobs, quotes or templates based on existing jobs, quotes or templates.
Full financial posting of all jobs including retention with capped values for invoice and Job
Fast Batch Invoicing for Do and Charge jobs
Contract and Section Variations catered for
Estimated versus Actuals reporting, profit reporting, Invoices, Statements, Trial Balance
Supplier Orders based on Job Stage
Stock definitions for Each, Per Metre, Per Square Metre and per Cubic Metre
Stock Kits – allows a stock line to be defined based on quantities of other stock lines
Supplier stock prices updated through creditor invoicing used for accurate estimating. Agreed pricing for items generally, and special pricing for items against a project supported.
User Definable Job Sections and Sub Sections